Turkey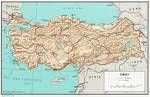 HAHAHA!! I mean the gobble/gobble kind of course, not the Constantinople kind. Though I'd love to visit Istanbul.
Actually, the map shown here looks a tiny bit like Massachusetts without Cape Cod. Or I guess you could say it looks like Tennessee, though a bit thicker and not as long. Tell the truth, if you didn't know what country this was, or state or province, what would you have thought?
I got into an argument in class recently when I said that in my opinion, an educated person in our country knows the capitals of all 50 states. "Not all fifty!" my students cried. "YES!" I answered. "Do YOU know all fifty?" they asked and I said I did. God help me. They started peppering me with states and I got them all. Good thing they didn't ask Missouri--is that Jefferson City? I know it isn't St. Louis. I still say an American should know all the capitals. You know, I think I'm a little fuzzy on some of them. North Carolina? Yeesh.
No offense to the midwest, but they like to go heavy on the Velveeta and the Cool Whip. I am headed into its confines tomorrow and hope to maintain control over my gluten consumption. (High School Weight, folks--it's coming!) It may be like the smell of blood to a wolf, though, if I get in front of that Rotel/Velveeta cheese dip. The last time I stood in front of a vat of it, I mawed it (maued?) till I was sick. See, that's my problem. I take a good thing and push the limits, although on the other hand, ain't nothin' wrong with a little limit pushing.
No bloggling until I get back on Saturday.
I am very thankful for all I have and especially for the ones close to me.
I love you all.
A bientot
b