JACOBY MUST STAY
Note to Theo Epstein who is at an owners' meeting right now, possibly enjoying a big cigar, or a big slice of molten chocolate cake:
JMS, Theo!!!!
JACOBY MUST STAY!!!
DON'T TRADE JACOBY!!! NO!!!! GET YOUR HAND AWAY FROM THE PHONE!!!!
We have to keep Jacoby Ellsbury, not just because of his talent, but because he is so cute and, and, promising. He's the future. Or at least we want him to be the future. He even seems a bit gullible in some ways, like when he let himself get used in that Taco Bell promotion thing. Other studly types in New England USED to be humble.
Before they became movie star types. Don't get me wrong. We still love Tommy Boy, but I'm thinking he's moved up lately. He's buying the three-ply paper towels. Or four. [what is the max?] And throwing them out with impunity. And five dollar lattes at Star's. And throwing THEM out. He's in Rolex Country or Piaget, not that I have ever visited there, and not that I would know a good watch from a bad.
If Tom Brady walked through Hannaford's, probably all the electricity would short out. Everything would stop. The scanners wouldn't work. The yogurt would heat up. Maybe they'd stop charging three dollars a pound for grapes. Maybe I'll beg him to do it. Every female working there would quit her job and follow him out the front door. I mean some people are famous and some people are FAMOUS.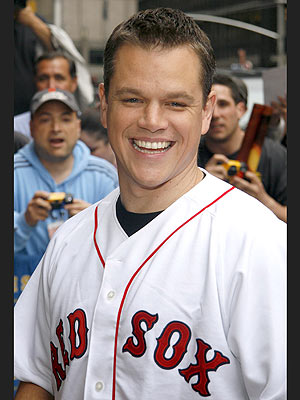 What if you combined Brady and Ellsbury? Think about it.
This gentleman is not what you call cute. He is what you call Charles Darwin. A student of mine a couple of years ago complained that "his Origin of Spices is extremely boring."
Obviously, this person did not persevere into the nutmeg section, which I found riveting.
All in fun, dear reader.
And my students are fine with it. Thanks also to the Boston Globe and People Magazine.
A bientot
love,
becky