BACK ON TRACK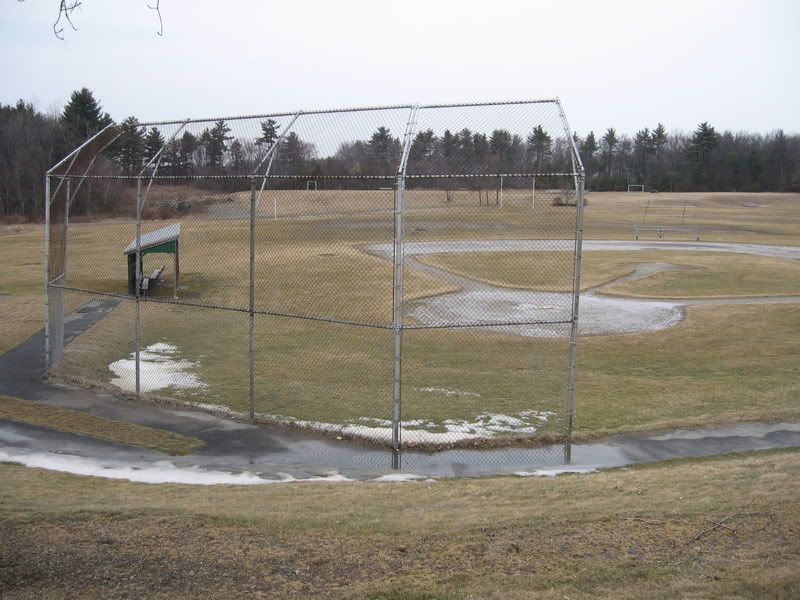 Finally, the snow has melted at the track and Becky is back on it!!! I think for the late fall and winter my entire weight loss has only been around 3-3.5 pounds. Still, I am happy for it and enjoy wearing my "thin" clothes.
Also enjoying my intermittent spring break, three days off this week and two next. In the summer I call it Living the Dream. I suppose now it's Living the Halfway Dream. Or just Halfass Living, what about that for a title? It could be followed by Halfass Summer Love Affair or Halfass Tales From the Grocery or well, gosh, the mind boggles at the possibilities.
See? This is how great series are born.
Other titles for other books down the road:
DRINKING CREAM
DARK SIDE OF THE SEESAW
IT'S A GREAT LIFE IF YOU DON'T WEAKEN
LIVING ON CRUMBS
A TAP ON THE SHOULDER
SPINNING BACK AROUND
Titles are fun. If only the book itself didn't have to be written, haha. On my very first circuit around the track I came up with a good idea for the old lady book. It has to do with American Idol, a show I have never seen, but may have to for research purposes.
I kind of like this Halfass thing, though, I gotta tell you.
A bientot
Love not from Florida,
becky