It's a Zoo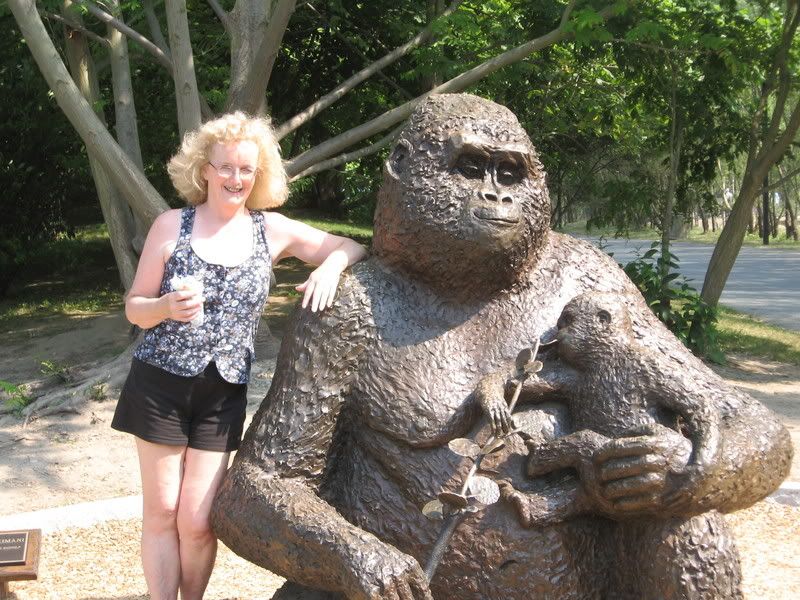 On the hottest day of the year, too, can you believe it? This monkey was about 125 degrees to the touch.
YOW!
Otherwise, you know I would have tried to sit in the crook of her arm, boys and girls. I didn't really see an opportunity for a TITANIC pose here, though maybe there was one and I missed it. That thing in my hand is a snow cone, my first in a dog's age [dogs aren't allowed at Franklin Park Zoo, though we saw one brazenly being taken in as we were leaving] and bought for me by my daughter
's boyfriend. What a guy!!!

Here are two of our participants on the way in.

Here are three more. We won the prize for the youngest baby being forced to look at animals in the zoo.
LOOK, MAEVE, LOOK AT THE MONKEYS!!

NO NO, DON'T LOOK THERE, LOOK HERE! SEE? SEE?
Note for posterity: eight months old? Probably too young for the zoo.
This guy looked like he was suffering from the heat. There was no sand for him to bury his head in either, though plenty was blowing in my face. The place is a little on the downtrodden side.

Speaking of downtrodden, this is one sad sack peacock on his way to relieve himself.

DUDE! THAT'S THE LADIES' ROOM! DON'T GO IN THERE!

Naturally, he didn't listen and there was hell to pay. Here he is dragging his sorry ass past the vending machine where he tried to buy a Skittles but didn't have enough cash. If he'd have waited, we probably would have helped him out, but he had a date somewhere, probably with one of those tarty little cockatoos. We didn't see him after that.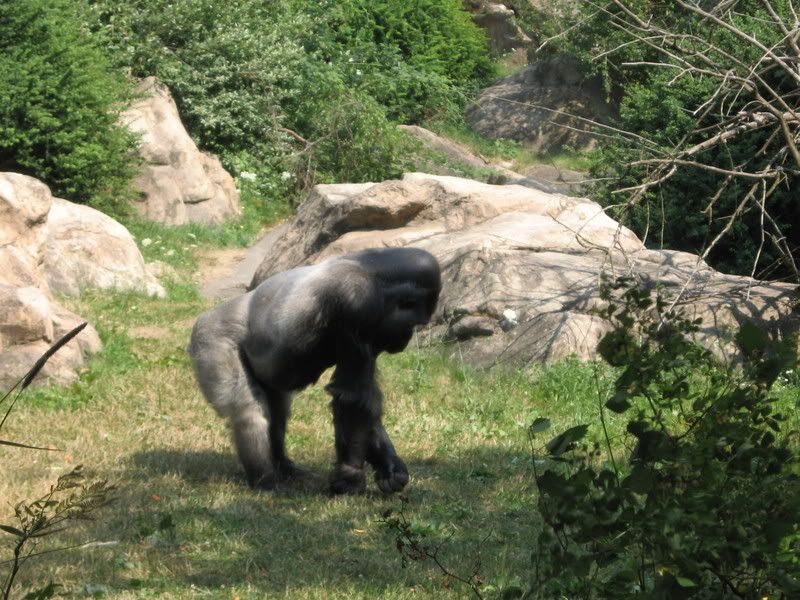 Indeed it seemed to be one sad story following another at the zoo, dear reader. This unfortunate male silverback is on a permanent "time out" from the other members of his family group. It seems he does not get along with the young juvenile males.

Nothing we women didn't know, huh?
So now he forages for canteloupe cubes thrown by zoo volunteers instead of "acting out" and threatening everyone else inside the compound. Everybody has problems, buddy.
YEAH! THAT'S WHAT I SHOULDA SAID!! THAT LITTLE PISSANT APE!


I think we'll wait at least another year before we go again, even though a good time was had by all.


The king will see you now.




A bientot
500 words per day are adding up
love,
Becky