Girlfriends' Book Pick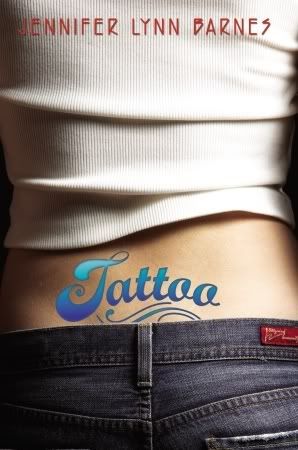 Four friends. Four tattoos. One ancient evil.
Bailey Morgan isn't the type of girl who shows a lot of skin, but somehow, she ends up in a dressing room at the mall with her friend Delia applying a temporary tattoo to her lower back. Never one to suffer fashion doubt, trendsetter Delia knows exactly where she wants her own tattoo: on her stomach, right where her shirt ends—can you say "midriff"? Annabelle, the quiet one, chooses the back of her neck, and tomboy Zo plasters hers on the top of her foot. The tattoos will last for three days, and Delia's sure that with them, the four friends will absolutely kill at the school dance.
Unfortunately, killing is just what someone has in mind, and Bailey, Delia, Annabelle, and Zo are in for the battle of their lives. Along with her tattoo, each girl receives a gift—a supernatural power to help them in their fight. As Bailey's increasingly frightening dreams reveal the nature of their enemy, it becomes clear to the girls that it's up to them to save the world. And if they can get Delia to stop using her newfound power to turn gum wrappers into Prada pumps, they might actually stand a chance.
What Critics Are Saying:
"Imagine the gang from the Sisterhood of the Traveling Pants series with magic tattoos that give them each different powers... Spunky, fun-loving, and sometimes cranky teen-girl friendships and realistic dialogue propel this character-driven, fast-paced read."
-Booklist
"This chick-lit fantasy, similar to though not as dark as Neal Shusterman's fairy-tale retellings, is a fast-paced, fun read for Buffy and Charmed fans." -School Library Journal
"Fantastical, but with a reality check." -Kirkus
"In the end, readers will get a few good laughs from these sassy heroines." –Publisher's Weekly
"Jennifer Lynn Barnes' Tattoo is a page-turning thrill ride that incorporates Greek mythology with the supernatural adventures of four likable, wisecracking friends. Fun, entertaining, and a total reading pleasure." -Melissa de la Cruz, author of BLUE BLOODS
"I haven't met a greater group of friends since THE SISTERHOOD OF THE TRAVELING PANTS… TATTOO is a unique story that is sure to satisfy any reader -- fantasy lover or not." –Teensreadtoo.com
Bio:
A Native Oklahoman, Jennifer Lynn Barnes is a recent graduate of Yale University, where she studied cognitive science (the study of the brain and thought). Jennifer is a 2006-2007 Fulbright Scholar in the United Kingdom, where she is currently doing autism research at Cambridge University. She wrote her first book, Golden, when she was a teenager and wrote several others- including Tattoo- while still in college. Her next book, Platinum, will be released in September of 2007.
Visit Jen at her
website
and her
blog
.
Attention published female authors: Would you like to be a member of the virtual tour for women authors called the Girlfriend Cyber Circuit? Here's an
FAQ
about the GCC. We are now adding candidates to our waitlist. If you'd like to be added, please email
Karin Gillespie
.