GCC: Lauren Barnholdt's latest!!!!!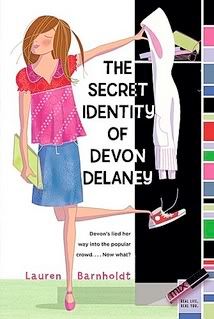 Launching the new Simon and Schuster MIX line for tweens comes THE SECRET IDENTITY OF DEVON DELANEY by Lauren Barnholdt….
Mom says karma always comes around to get you, and I guess it's true. Because last summer I was a total liar, and now, right in the middle of Mr. Pritchard's third-period math class, my whole world is about to come crashing down…..
That's because while Devon was living with her grandmother for the summer, she told her "summer friend," Lexi, that she was really popular back home and dating Jared Bentley, only the most popular guy at school. Harmless lies, right? Wrong. Not when Lexi is standing at the front of Devon's class, having just moved to Devon's town. Uh-oh.
Devon knows there's only one way to handle this -- she'll just have to become popular! But how is Devon supposed to accomplish that when she's never even talked to Jared, much less dated him?! And it seems the more Devon tries to keep up her "image," the more things go wrong. Her family thinks she's nuts, her best friend won't speak to her, and, as if it's not all complicated enough, Jared starts crushing on Lexi and Devon starts crushing on Jared's best friend, Luke. It all has Devon wondering -- who is the real Devon Delaney?
Website:
http://www.laurenbarnholdt.com/
Blog:
www.livejournal.com/users/laurenbarnholdt
Bio: Lauren Barnholdt's first book for teens, REALITY CHICK, was a Teen People Can't-Miss Pick and a New York Public Library Best Book for the Teen Age 2007. In junior high, she was known to have a few "secret identities" of her own. She currently resides in Boston, Massachusetts, where she's hard at work on her next book.
Click here to order THE SECRET IDENTITY OF DEVON DELANEY
!