If I Could Be in a Painting
I wouldn't mind spending an evening with this woman.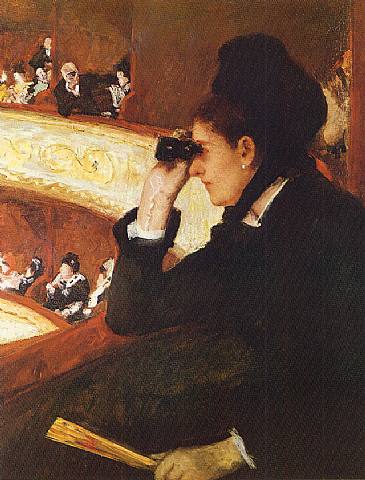 She's purposeful. She's on a mission. Something is going on and I'd like to be in on her plan. I'm sure I could help. My natural nosiness would be an asset to her and she could send me around to the other side of the event to scrutinize from there. There's no way she's watching the opera below and besides that, the man across the way is watching HER. Oh, this is intrigue I can't pass up. Put me in. Woman In Black at the Opera by Mary Cassatt (one of my true faves anyway)
Or if I were feeling rather more informal, I wouldn't mind being inserted into this scene by John Singer Sargent.
This group looks as though they've been dipping into the port or the absinthe or the laudanum.
HEY!!! THROCKMORTON!! DO YOU KNOW WHAT YOU DID WITH THE HORSE?
WHAT?
I SAID DO YOU KNOW WHERE THE HORSE IS?
THAT CLOUD RIGHT THERE BY THE TREE? IT LOOKS EXACTLY LIKE MY UNCLE JOE! IT'S SCARING ME, MAN!
On second thought, maybe I'd rather work on my dance skills.
I love this Edgar Degas ballerina. She is at the outside leaning apex of a triumphant bow, I feel, a nanosecond away from collapsing forward and receiving Bravas from the audience. She has given her all. It's thrilling.
But I might also like to be just on my way home from a night of doing something secret.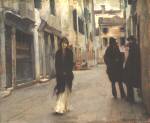 Sargent again and I will stop here. The girl and I have things to chat about this chilly morning. I am falling in step with her now--you can't see me but I am there. Those men across the way should mind their own business.
A bientot
love,
becky