BL--BL--BL--
You know what they are, dear reader. Yaay!!!
The current crop includes some old favorites, such as "We found out my dog had Lime Disease"
(no more tequila for Fido!!!)
and some new ones too: "I have a bunch of moose's and hairspray to help me get ready to go out."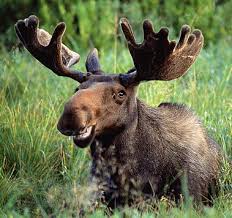 And really, why couldn't a moose give grooming advice? If you don't count the flies and ticks, they are certainly hygienic and probably ego-invested as all hell in those antlers they have. I'm sure certain configurations invite taunts of sissiness as do certain human styles. HEY!! DUMBASS!!!! WHAT'S WITH THE BABAR EARS!! DID YOU GET THOSE FROM YOUR MOMMY! YOU ARE SO GAY!!!
But to move on.
"I didn't know how I would coupe at first."
I tried convertibling and later on hatchbacking and even a bit of stationwagoning, but none of them helped.
"In my bedroom you will see starch white walls."
Well, you know, maybe this one isn't a blooper. Perhaps mashed potatoes have been thrown at the walls for so many years that the flowered wallpaper has actually been covered up. Or hominy grits. Yuck.
"My dog was tied up with his long red leash barking and running around."
That is one scary leash.
"These are things I try to do on a daily biases."
"Some scientists at Perdue University....."
"
"My bed size is a full with a big corduroy confronter."
Busy today, dear reader. A bientot
love,
becky