DONE!!!!
Well, I'm not done with everything, not by a long shot. I still have research papers, vast numbers of them, taunting me on my way to the bathroom. They sit piled in the upstairs hallway of my house. Journals are stacked here and there in the dining room. They haven't made it upstairs yet.
I grade in bed. It's the only way I can stand it. That way I can reach for a book or a puzzle if I need one. By the way, is this a man's picture? Those hands look kind of big, don't they? Google doesn't always help me out.



I have every conceivable written assignment strewn here and there in my house. I will get to them all. The portfolios are done, yaaay!!! They were easy, since I have already read most of the material included. Tomorrow I give the final in that class. Then I will have finals sitting around taunting me.

But this much is true.
I DON'T HAVE TO TEACH ANYBODY ANYTHING!!!!
Oh, it's so satisfying. I feel positively festive. Zestful.
Not only that, but the Red Sox went 2/3 at Yankee Stadium this weekend. HAHAHAHA!! Now THAT is zestful.


Recently I have read TALK TALK by T.C. Boyle. It was good. One of the pov's was a deaf girl and it was interesting. The most fascinating character, though, was the bad guy. I couldn't wait to see things from his viewpoint. He was stealing people's identities and living large on credit cards. What a fantasy, to have everything you want--no no, I want extra EXTRA virgin olive oil. Very instructive.

I also read IN THE NAME OF FRIENDSHIP by Marilyn French, who wrote THE WOMEN'S ROOM quite a few years ago. She is very scholarly and adroit at analysis. Sometimes her books seem a bit lecturing if you know what I mean. Propaganda from the feminist side. NOT THAT I AM NOT A FEMINIST. I am. But you know, I think it's all a lot less complicated than we think or at least than I thought for many years. Maureen Dowd gets that, in my opinion. I'm reading Susan Isaacs right now and it says on her book jacket that every one of her books has been a NYT best seller. Wow.

What did Wayne and Garth (which one was it?) used to say? "Unworthy!"

But the buds are on the trees, dear reader, and soon I will be Living the Dream
Can't argue with that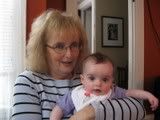 i
A bientot
love,
becky