Girlfriends' Cyber Circuit
Monday is here and my first batch of papers are coming in. But who cares!!! Today is the maiden voyage of my Girlfriends' Cyber Circuit tour. Remember, they are the really cool girls who are nice and will eat lunch with you even if you are not cool. My guest today is Melanie Hauser and let's make her comfortable. A nice mudslide for her, there you go, Mel, and one for me too, although I'm commanding this ship and steering the wheel. I can't even see where I'm going.
But anyway, here is Melanie's cool new book, Confessions of a Super Mom: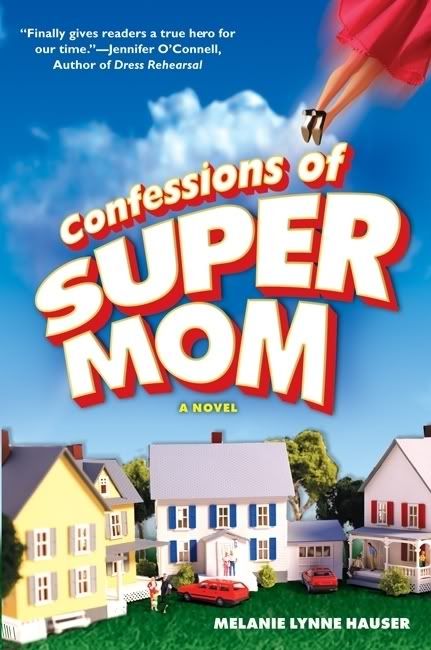 ABOUT THE BOOK: For every harried mother who dreams of cleaning with the power of 10,000 Swiffers, putting her children into Super Time Outs with just a flick of her Merciless Gaze, and employing a little Super Eavesdropping when the occasion warrants, CONFESSIONS OF SUPER MOM is a must-read. Filled with romance, intrigue, humor and a colorful cast of characters, this delightful new novel introduces a superhero for the Swiffer generation.
Birdie Lee is an average hard-working single mother of two teenagers, PTA lackey, and mild-mannered grocery clerk at the local Marvel Fine Foods and Beverages. One morning, while getting ready for work, Birdie is sidetracked by a stubborn Stain of Unusual Origin on her bathroom floor. Unable to let the stain get the best of her, she tries to annihilate it with every household product she can find –to no avail. Angry, hot, light-headed (and forgetting to turn on the exhaust fan), she makes one final desperate attempt to eradicate this vile, dastardly stain: she loads her Swiffer Wet Jet with every household cleanser she owns, aims, and fires….
And passes out, overcome by the fumes. After regaining consciousness (and reminding herself to scrub the bottom of the toilet since from her perspective — flat on her back — it was looking a little dingy), Birdie realizes something's amiss. Her ears begin to buzz and her senses are aquiver. Eventually, aided by Martin, her geeky thirteen-year-old son and trusty sidekick, Birdie understands that she now possesses extraordinary powers — superpowers, to be exact. Birdie soon learns, however, that, to quote Spiderman, with great power comes great responsibility and she finds herself struggling to balance a new onslaught of challenges, both at home and in her community. While trying to keep her distant 15-year-old daughter's heart from being broken (something not even a superhero can do), and dealing with her smug ex-husband and his over-achieving new wife, she must manage her job, PTA responsibilities and a budding romance– all the while trying to rescue her beloved town of Astro Park from an evil force that threatens its children.
So forget those chores— pick up CONFESSIONS OF SUPER MOM and relish in a much-deserved escape. This charming novel will keep readers glued to the page as they cheer for Super Mom to root out injustice and surrender herself to love. Readers everywhere will find themselves in its pages and rejoice in finding a book that celebrates their overlooked everyday acts of heroism.
ABOUT THE AUTHOR: Former member of the PTA, Melanie Lynne Hauser is a prototypical Super Mom. CONFESSIONS OF SUPER MOM is her first novel, and she is a contributor, along with Jodi Picoult, Jacqueline Mitchard, Jennifer Lauck and Marion Winik, to the anthology It's a Boy (November 2005, Seal Press). SUPER MOM SAVES THE WORLD will be published by NAL in March, 2007. She lives in the Chicago area with her husband and two teenage sons. You can visit her
website here
and her
blog
here!