Year in Review
2008 began and ended with Tommy Boy. In January, he, um, well, what do you call it when you don't win? I don't really want to say it. But that's what he did at the Super Bowl. We were stunned. What's up with that? Instead, we got to watch Eli Manning throw a ridiculous pass for a bizarre catch and an impossible win. We ended the year with T proposing to Giselle in a private jet with four dozen white roses. Here's my question. Isn't it red roses that symbolize love? Aren't white for funerals? I'm just saying.
In the fall, TB blew his knee out and now we're not even in the playoffs.
Okay, let's give all that a big WHATEVER.
More happiness in Boston in the springtime:
GREEEEEEEEEEEEEEEEEEEEEEEEEEEEN!!!!
NOTABLE DEATHS OF PEOPLE I THOUGHT WERE ALREADY DEAD:
Harold Pinter , playwright and 2005 Nobel Prize winner for Literature. He won for being dark, dark, weird, and more dark.
Bobby Fischer, mate to your queen
William F. Buckley Jr., most elegant of all wrongheaded pundits. No one can cross their legs like he did. Trust me on this.
Charlton Heston, welcomed into heaven by seraphim, celestial chariots, and a phalanx of rifle-toting rollerskating angels. ROCK IT, BABY! LET'S GET THIS PARTY STARTED!
Yves Saint Laurent, whose monogram adorned every wedding gift given in late 60s-early 70s, including towels sent to me, lovely bride of that era. I thought someone made a mistake and did not get my initials right. Thank god I left that out in my thank you note. Have worried about this late at night.
Cyd Charisse, whom I saw in person at a taping of the Mike Douglas Show in Philadelphia in 1974.
Jesse Helms, who died on July 4 which doesn't really seem right. Glad he didn't see the election.
Alexander Solzhenitsyn, author of the unreadable Gulag Archipelago
Studs Terkel, who looked like a mummy for the last ten years of his life.
DRUG DEATHS
Heath Ledger and Brad Renfro, that kid who was in the Grisham movie The Client. Always sad and who will be next year's?
NOTABLE DEATHS OF PEOPLE WHO ARE STILL ALIVE BECAUSE THEY CAN'T BE DEAD
Tim Russert
Paul Newman
George Carlin
NOTABLE PICTURES OF PEOPLE WHO WISH THEY WERE DEAD
LARGEST EXPENDITURE BY A PRIVATE CITIZEN ON ONE TOOTH:
Becky Motew for $5000 on left front canine
BEST PICTURE:
No Country for Old Men (one of the worst ever, about a guy who travels around with an oxygen tank killing people in black and white and no music)
NOTABLE ATHLETE WHO DOESN'T CARE IF HE WINS
BEST ADULT OLYMPIC TEAM THAT WEARS PAJAMAS WITH FEET AND SLEEPS WITH TEDDY BEARS: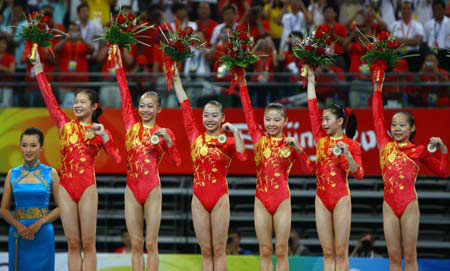 Most Attractive Person to Visit #10 Downing Street in London and in Paris:
And finally, best snack in America for fourth year in a row:
A bientot, dear reader. love,becky