SCREAM!!!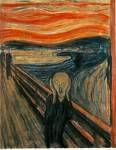 I am screaming because I have no choice but to stay home on Halloween. Yes that's right, trooping up and down the stairs to hand out candy to unknown costumed urchins. AAAAAAAAAAAAAARGH. This is how I will look when I answer the door, and if the little ones develop psychoses from it, that's what they get with their Milk Duds.
I bought the grossest candy I could find, including Milk Duds, caramels, Snickers, and a bag of something else. All with nougat and Elmer's Glue inside, ready to remove sealants, fillings, crowns, and dental implants with one bite(see previous post).
I used to like to get Luden's wild cherry cough drops on Halloween, though I can't remember who exactly gave those out.
HONEY, DID YOU REMEMBER TO BUY THE COUGH DROP SNACKS?
WHAT ABOUT THE VICKS VAPORUB SAMPLES?
I think I'll give Advil tablets. The kids ought to know how to fight a sick headache before they get any older.
Everyone is so suspicious. Do they think I have the patience to put razor blades in apples? Can you see the person trying to do that? They've got a big cookie sheet spread with apple halves and blood from trying to get the blades to go in the right way. I would have no idea how to do that. And as far as poisoning the popcorn balls, I wouldn't know how to make a popcorn ball if my life depended on it.
If any of my friends are reading this, I'm still available for the movies tomorrow night, or shopping, drinks, cruising the Army base, or an outing of practically any kind. The candy can be yours.
Be here now. God, PLEASE be here now so I don't have to be.
A bientot
love,becky